Another wonderful snack during diwali time...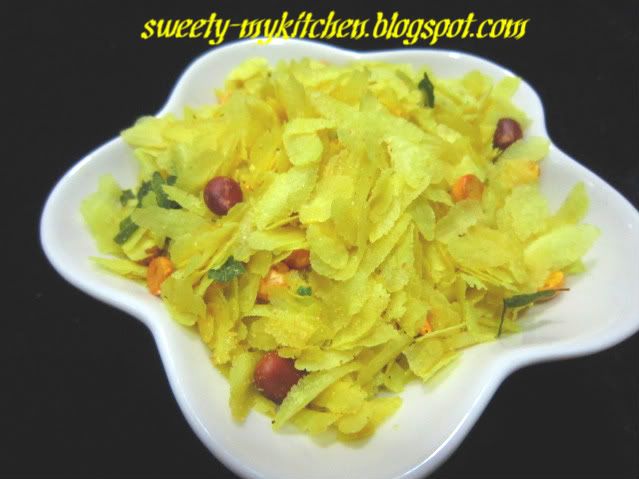 Ingredients
1 1/2 kg Thin Rice Flakes
2-3 tbsp groundnuts
3 tbsp roasted chick peas
2 chillies (cut in pieces) (if you want spicy then add accordingly)
3 tsp mustard seeds
2 tsp dry coconut either shredded or cut into thin slices
Salt according to taste
Oil 3-4 tbsp or as needed
3 tsp asafoetida (hing)
3-4 tsp Turmeric
2 tbsp curry leaves
Method
1. In a vessel add oil and make it hot. Add mustard seeds, once they splutter add groundnuts and roasted chickpeas. Fry them for 2-3 minutes. Once they change colour add curry leaves and sliced coconut.
2. Fry it for a while, then add hing and turmeric and salt. Then add the rice flakes slowly slowly.
Keep the gas flame on medium low and keep stirring the mixture.
3. Keep stirring it till the rice flakes become crispy. Do not make the gas flame too big otherwise the rice flakes will become crispy very fast but will not stay crispy for a long time. If the flame is low then it will take time for the rice flakes to become crispy but it will remain crispy for a very long time.
4. Once done remove from fire and let it cool. Then store in a airtight container.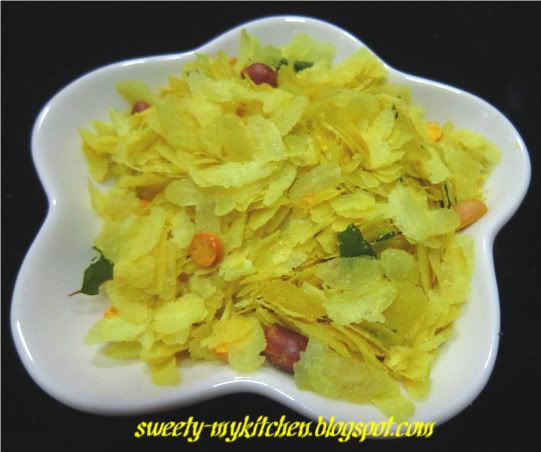 Read more!