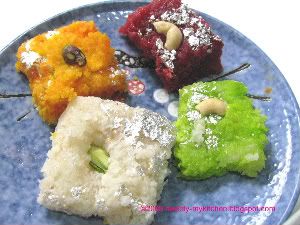 Ingredients
2 medium coconuts
2 cup sugar
100gms milk solids (khoya)
1tbsp milk

Method

1. Scrape coconut and keep aside. (take care not to take the black covering or the colour of the burfi will change.)
2. Make sugar syrup using sugar and 1 1/2 cups of water. When it begins to boil add a tablespoon of milk to clarify the sugar syrup. Boil it to 1 string consistency.
3. Take a pan and saute scraped coconut and khoya on low heat. When it is slightly dry remove.
4. Grease a plate and keep ready.
5. Start adding roasted coconut to the sugar syrup gradually, keep on stirring the mixture. When it is semi solid remove from heat and spread onto the greased plate. Apply silver varq.
6. Cut into small squares or any desired shape when it cools down. Decorate with cashew/pista/badam.

Note:

To add different colours to the burfi before spreading it on the plate make different portions of the coconut mix and add colours to it and then spread it on the greased plate. Do this very very quickly otherwise the burfis might be difficult to spread.

The red colour burfi in the pic is Beetroot burfi.
For that if you take 1 cup of grated coconut then take 1cup of grated beetroot (use the same cup for measurements)
Rest of the procedure is same. i.e when you saute coconut and khoya add beetroot to it and saute till it is slightly dry. Then same way add it to the sugar syrup and mix. When it is semi solid remove from heat and spread on the greatsed plate. Decorate with silver varq and cashew.
Read more!