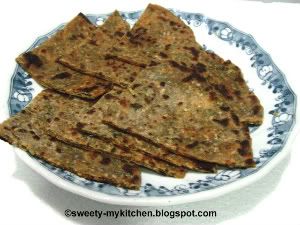 Easy and fast parathas Good for breakfast/ lunch/ dinner/ journey/ picnic.........

Preparation time: 20 min
Cooking time: 15 min
Serves: 5 parathas

Ingredients
Spinach shredded 1/2 bunch
Cabbage shredded 1/4 medium
Wheat flour (atta) 2 cups
Chickpea flour (besan) 1/2 cup
Salt to taste
Red chilli powder 1 tsp
Carom seeds (ajwain/ ova) 1 tsp
Green chillies 1-2 chopped
Oil 4-5 tsp
Milk 4-5 tbsp
Method
1. Put the wheat flour and chickpea flour in a vessel.
2. Add the red chilli powder, carom seeds, green chillies, oil, salt, shredded cabbage, shredded spinach and milk to it.
3. Mix all the ingredients and make a dough of it.
4. Add a little water if needed. Set aside for 5-10 min.
5. Divide into 5 equal portions and roll out into thick parathas of 5 to 6 inches of diametre.
6. Heat tawa and place the paratha on it. Drizzle with oil and cook on one side. Turn the paratha and drizzle oil again and cook the other side too.
7. Similarly make other 4 parathas and serve hot with any pickle, chutney or raita.....