A quick and easy way of preparing Kashmiri Dum Aloo. It may not be the authentic way of preparing the recipe but i liked it. Its easy and a very fast recipe..... may be a few ingredients are missed out but the taste was great.. so here goes the recipe with few ingredients but yummy in taste and cooked in just 1tsp oil.... :)
Dry red chillies 6 (Take dry red chillies and make a paste in the mixer with water)
Boiled Potatoes 4 (cut into pieces) (traditionally small sized potatoes are used but i had big ones)
Seasame Seeds 3tsp ( dry roast the seasame seeds and then make a paste in mixer with little water.)
Onion, tomato cut into rings and coriander finely chopped for garnishing.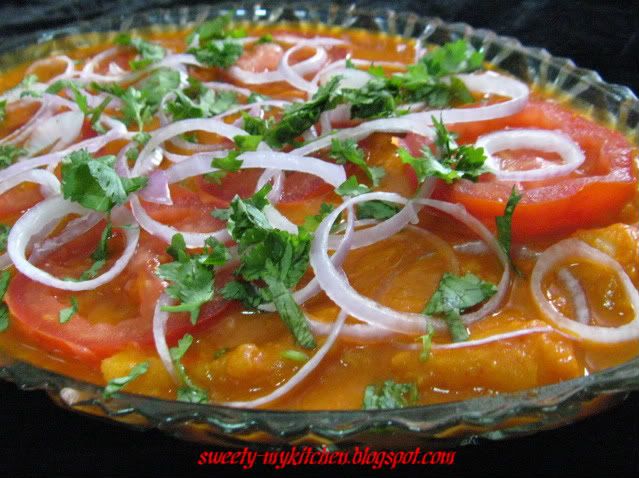 1. Boil potatoes in pressure cooker for 2 or 3 whistles. (do not make them too soft)
2. Heat oil in a vessel, add kalonji and fry for a min.
3. Then add dry chilli paste and fry for a min.
4. Add seasame seeds paste and fry for another min.
5. Add two cups of water. Let it boil for a while and then add the boiled potatoes.
6. Add salt cover and let it boil for another five min.
7. Serve hot garnished with onion, tomato and coriander with puri/ lucchi.