This time for diwali I tried completely different sweets... some traditional and one which I had not at all tried before... Did not know anything about the taste of it... but still wanted to try it out when I read the recipe.... Recipe was simple and also had the material available.. tried it and really it worked out good... everyone liked it... me too... so here goes the simple and nice recipe for toasted marshmallows...


Preparation time: 25minutes
Cooking time: 3 minutes

Makes approx 36
Ingredients
1 cup sugar
½ cup water
5 tsp gelatin powder
½ cup extra water
1tsp vanilla essence
2 to 3 cups dessicated coconut
Method
Combine sugar and water in a bowl and with the help of electric beater for 3 minutes.

Add gelatin to the water and then double boil it till the gelatin dissolves.

Add this to the sugar water mixture and beat with the beater for another 10min. Till a white froth appears on it.

Place butter paper in a tin and brush it with oil or butter and pour the gelatin sugar mixtur into it.

Leave it to set at room temperature overnight.

Morning refrigerator for 1 or 1½ hrs. Cut into pieces.

Take the dissicated coconut and dry roast it until brown or microwave it till brown.

Roll the cut marshmallows into the coconut to coat nicely. Serve.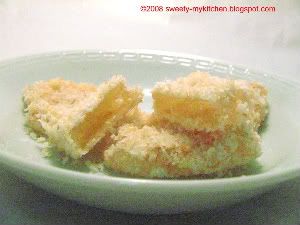 This goes for the Sweet event on Srilekha's Me and My kitchen.
& for Mytreyee Sweet Series event
.