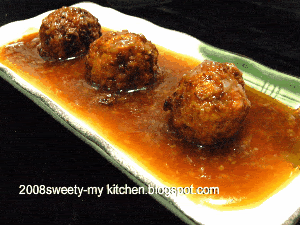 After a very very long long time i m back...... This recipie I tried a long time back...... It was a very good success that time.... so a few days back was feeling like eating something different.... so here is the recipie for Veg manchurian.... my style...
Ingredients:
For the balls
1 tsp each ginger and garlic paste
2 boiled medium size potatoes
For the Sauce
1 tsp ginger, green chilli, garlic paste and coriander paste
Method
For the balls
1. Take 1 cup cauliflower, 1 capsicum, 1 green chilli, ginger garlic paste, 1/2 carrot, few beans, 1/4 cup of cabbage, 1/2 onion and grind it in a food processor.
2. Cut the rest of the vegetables very finely with a knife.
3. Mix the processed vegetables, cut vegetables, potatoes, wheat flour and salt to make a dough.
4. Make small balls of this dough and deep fry to brownish colour on medium flame.
For the Sauce
1. Heat oil in a pan and add the ginger, green chilli, garlic and coriander paste to it.
2. Fry for a minute and then add hot water to it.
3. Then add the soya sauce, sugar and salt. (Be careful while adding the salt as Soya sauce is salty and there is salt added in the Manchurian balls also.)
4. In a small bowl make a paste of the corn flour with a tsp of water and then add this to the boiling water.
5. Add cabbage and boil it stirring continuously for 5 to 7 minutes.
6. At the time of serving add the Manchurian balls to the gravy and serve hot....