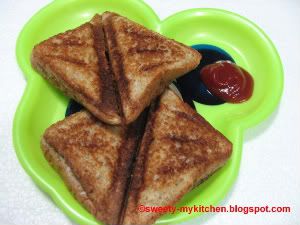 Heavy, easy, quick and wonderful breakfast on a Sunday morning.....
Preparation time: 10 min
Cooking time: 10 min
Serves: 2
Ingredients
Bread slices (brown/white) 8
Fresh grated coconut 2 cups
Green chilli paste 1 tsp
Salt as per taste
Cheese grated 2 tbsp
Method
1. Apply a little butter on both sides of the bread slices.
2. Mix grated coconut, green chilli paste, salt and grated cheese with the help of a fork.
3. Put this mixture on one slice of bread and cover it with the second slice. Make all sandwiches ready, and put them in the sanwich maker to toast....
4. Once brown remove and serve hot with tomato ketchup.....