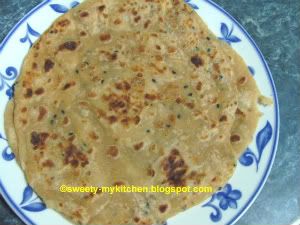 Alu called as Colocassia/ arbi in English. Colocassia is very rich in iron.... and all parts of this plants are very useful... the leaves can be used to make
alu vadi
or
alu bhaji
and the roots are rich in iron so can be used to make dry roasted vege or parathas as below....
1 tsp carom seeds powdered (ajwain/ ova)
1 tsp nigella seeds (kalonji)
salt and red chilli powder according to taste.
1. Wash and clean the arbi roots. Put in a pressure cooker and make 4-5 whistles. (just like we boil potatoes for potato paratha)
2. Once boiled let them cool and then peel the skin. Crush all the arbi's with hand and take care no lumps are remaining.
3. Add chilli powder, carom seeds powder, nigella seeds, cumin powder, salt and mix all the ingredients properly.
4. Add maida slowly to this mixture and make a stiff dough from it.
5. Put little oil to hands and make round balls of the dough and roll out dusting a bit of flour into thick parathas.
6. Roast on both sides nicely on medium heat and at the end leave some ghee from the sides and serve hot with any chutney or yoghurt.
Tip: Use wheat flour instead of maida if serving for small children.
.