Here goes the second one after the delicious panee recipe.... a coloured one.... :)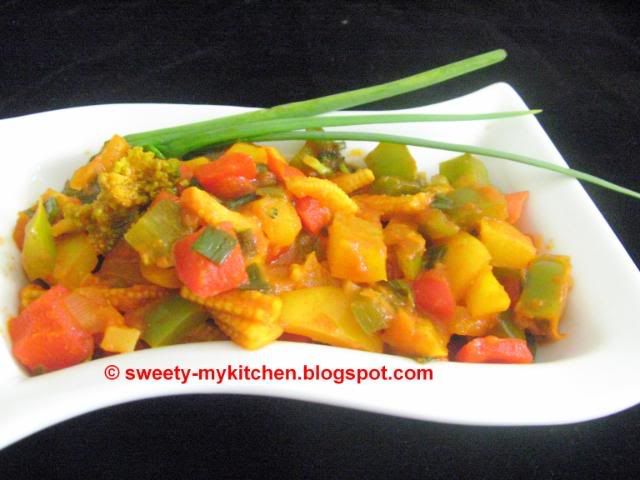 Serves 4
Ingrdients
10-12 baby corns
3 spring onions
1/2 each green, red and yellow bell peppers (capsicums)
1/2 tsp turmeric
1/2 tsp red chilli powder
1/2 tsp coriander and cumin powder
1 tomato
2tbsp tomato ketchup
2 tbsp tomato puree
1/2 tsp garam masala
1/2 tsp sugar
2 tsbp chopped coriander
1tbsp oil
salt to taste
Method
1. Cut baby corns length wise, slice the capsicums, chop the whites and greens of the spring onions separately, chop tomatoes.
2. Heat oil in a pan and add the spring onion whites and all the capsicums. Fry for 2-3 mins.
3. When the capsicum & onions are just done add the baby corns, turmeric powder, chilli powder, coriander and cumin powder, chopped tomatoes, tomato puree, tomato ketchup and salt. Mix and fry for some time.
4. Reduce the flame for 4 to 5 min till the baby corn is cooked.
5. Add spring onion greens, garam masala & sugar. Toss the vegetables lightly.
6. Garnish with chopped coriander and serve hot...