Hi all m back after a long long long time.... was really busy with work and some other stuff the last whole month.... so tired that the weekends also came and passed by.... Last long weekend we went out for a change which was really needed to all of us........ we went to KL and Genting... had lots of fun.... My daughter Sanika enjoyed a lot..... Climate was very nice... so now today really feeling nice to do some blogging after a long time.... these recipes were pending to be uploaded since a long time so now one by one will post them... so here goes the first one.. a very simple recipe of paneer in white gravy.......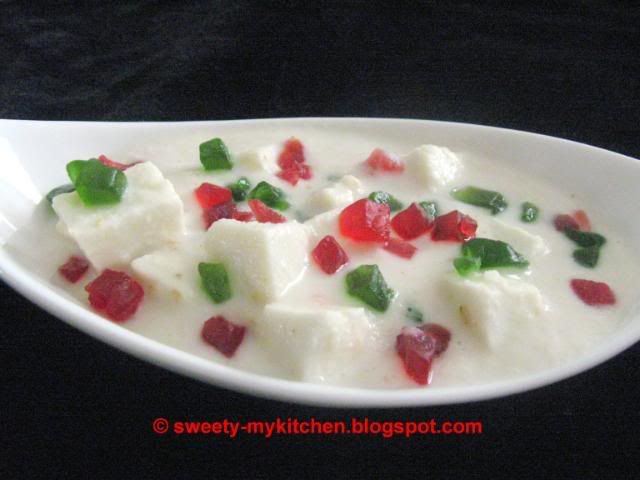 Serves 2


Ingredients
200gms paneer cut into 1'' cubes
2 tbsp clarified butter (ghee)
2 medium oninon
4 cloves garlic
1 tbsp cashewnuts chopped
1/2'' piece ginger
3 cardamoms
2 cloves
1'' stick cinnamon
1 bay leaf
3 chopped green chillies
1 red chilli
1 tea cup fresh curds
1tsp coriander seeds
3/4 cup finely chopped
coriander
1/4 tsp sugar
salt to taste
1tbsp glaced cherries (coloured) (for garnish)
Make a paste of
6 cloves garlic, 1/2'' piece of ginger with little water
Method
1. Cut the onions in to big pieces with water and boil.
2. When the onions are cooked, cool and blend it in mixer with the cashewnut pieces.
3. Heat clarified butter in a pan and add cloves, cardamoms, cinamon and bay leaf. Fry for a min.
4. Then add the ginger garlic paste and fry for another min.
5. Add the onion paste and fry for a little while.
6. When the onion paste is almost cooked add green chilllies.
7. Pound the red chilies, coriander seeds and add to the above gravy.
8. Fry for a few seconds and take the vessel off the fire.
9. Add to it churned curds and salt. Mix and return to fire and fry until the gravy starts leaving ghee on top.
10. Add coriander and cook for another min.
11. Finally add paneer and sugar and cook for a few min.
12. Serve hot garnished with glaced cherries...... and hot parathas.