A very delicious and authentic Maharashtrian Dish..... Its a very very healthy meal. Mostly the farmers prefer this food for lunch as it is very very energetic and also keeps you full for a longer time....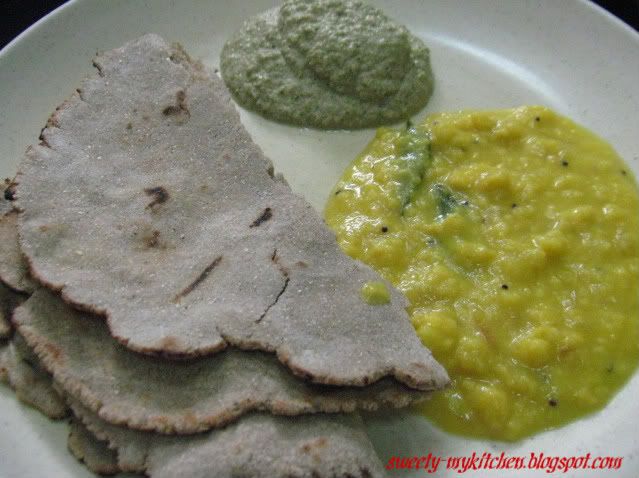 2 cups Bajra / Jowar flour
2 cups Chickpea flour (besan)
1 tsp each ginger and garlic paste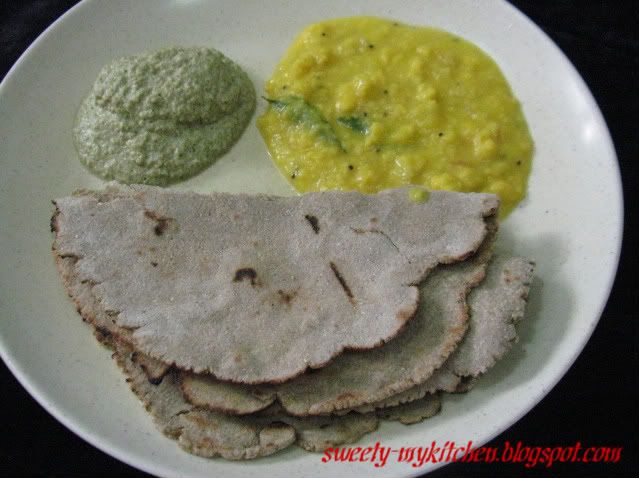 1. Take the bajra or jowar flour in a plate. Take little flour and put water and make dough of it and then with hand spread it slowly.
2. Once spread put it on hot tawa and on the top brush water.
3. When the water dries turn it over on the gas and let it puff.
4. Remove and keep it in the vessel.
1. Put oil in a vessel. When it is hot add mustard seeds.
2. Then add the curry leaves and chopped chillies.
3. Add ginger garlic paste and saute for few minutes.
4. Add chopped onions and fry for few minutes.
5. Add water salt. Let the water boil nicely.
6. When the water starts boiling slowly start adding chickpea flour and stir at the same time.
7. Cook for a few minutes and then off the gas.
1. In a mixer add all the ingredients of the chutney and make a paste.
Serve hot Bhakri with Pithala and chutney.