One of the wonderful timepass snacks made specially at the time of Diwali. Very easy to prepare .......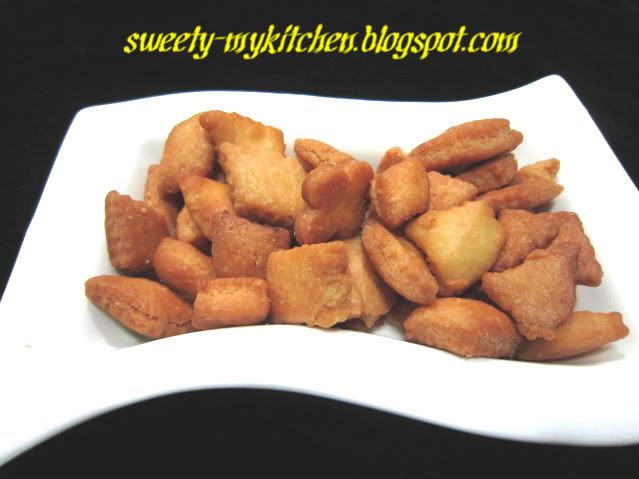 Ingredients
1 cup Clarified Butter (ghee)
1 cup Milk
1 1/4 cup Sugar
All purpose flour as needed (maida)
A pinch salt
2 tsp Cardamom powder
Oil for frying
Method
1. Mix ghee, milk and sugar in a heavy bottom vessel and put it on fire. Keep stirring continuously.
2. Boil it slightly, keep stirring so that the sugar melts.
3. Remove from fire and pour in a flat plate for cooling.
4. When it is warm add salt and cardamom powder to it and mix.
5. Then slowly add the flour to the mixture and make a nice soft dough. Cover and leave the dough for half an hour.
6. In a heavy bottom vessel pour oil and keep it on fire. Take a little portion of the dough and roll it a bit thick. Then cut it in diamond or square shape with the help of a knife or a cutter. You can use cookie cutters for different shapes.
7. Fry these in hot oil on a medium flame. Fry the shankarpale on medium low flame till golden brown. Remove on a kitchen towel and then store in a air tight container.
Its a wonderful snack for kids and also for adults with tea or just for time pass.
Tip: For the above measurement I had used around 4 1/2 cup of maida, and sugar 1 1/4 cup. If you like more sweet then may add little more sugar. The above measurement makes around 1kg of shankarpale.