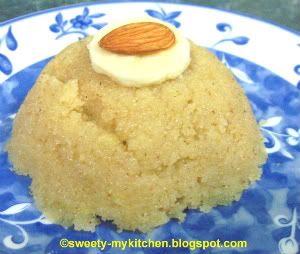 I wanted to make Badam Sheera since a long time.... but the with my job and the routine I am hardly getting time nowadays to try new stuff... But this weekend I reserved time to do it.... it was a good snack in the afternoon....
Badam/ Almonds 1 cup (soaked in warm water)
Sugar 1 1/2 cup (if you prefer less sweet then adjust accordingly)
Cardamom/elaichi powder 1 tsp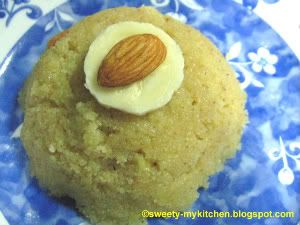 1. Remove the skin of the almonds and then make a paste of the almonds in a mixie.
2. In a thick bottomed vessel put the add 1/2 of the ghee and rava and roast it on medium flame until it changes its color and becomes aromatic.
3. While roasting the rava on another gas take a vessel and mix water and milk in it and keep for boiling.
4. Put the rest of the ghee in the vessel and add the almond paste to it. Roast it until it changes its colour.
5. Once the almond paste changes its colour add the rava and smashed bananas and mix all the together.
6. Then add the hot boiled milk to this above mixture. And keep stirring until they blend together.
7. Cover and let it cook for 2 minutes. Then add sugar and mix properely.
8. Once the sugar is completely dissolved and mixed nicely remove from the gas and add cardamom powder, any other nusts,raisins as desired and serve hot with a little ghee on top....