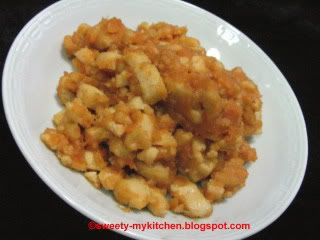 We had a potlock party last month in our office... Everyone had got wonderful dishes... we had a sumptuous lunch that day.. enjoyed a wide range of dishes.... it was a great day... as after the lunch we also had a tea party at 4 which was not planned... One of the colleague had got this dish of scrambled tofu which at first I thought was scrambled egg (egg bhurji)... when asked she told me the recepie... it was great to taste... So here goes the recepie... u all make eat and enjoy....
Ingredients
Red dired chillies 2-3 (deseeded) (if you like spicy then add more chillies)
Ginger paste 1 tsp
Garlic paste 1 tsp
Medium Onions 4
Tahu/Tofu 2 pieces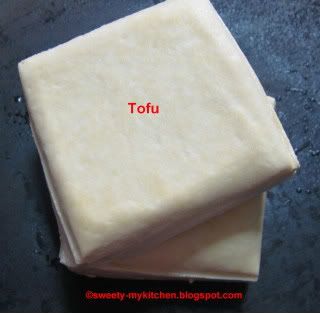 Sugar 1/2 tsp
Tamarind paste 1 tsp
Big tomatoes 2
Oil To fry the Tofu/ and then to fry the gravy
Salt To taste
Method
1. Wash, dry and cut the Tofu into small cubes. In a wok take oil and fry the tofu nicely till it changes its color.
2. Remove on a tissue and keep aside.
3. Deseed the tomatoes and cut the onion into 4 pieces. In a blender make a paste of the onions, tomatoes and the red chillies together.
4. Heat the remaining oil and add the ginger and garlic paste and fry till it becomesa bit brown. Then add the onion tomato paste and cook properly on low flame till the oil starts to separate.
5. Add sugar, salt, tamarind paste on cook over low fire for 1/2 an hour.
6. Lastly add the fried tofu and mix together. Remove and serve hot or cold with rice/bread/naan/chappati.... etc......