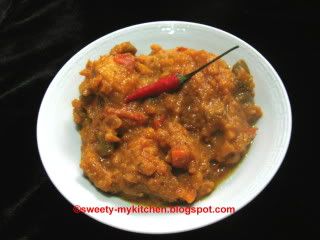 A wonderful Maharashtrian dish from the western part of Maharashtra, Kolhapur... this popular dish is traditionally spicy but you can adjust the heat to your tastebuds. Serve it with plain boiled rice or hot chapatis.....
Preparation time : 15-20 minutes
Cooking time: 30-45 minutes
Serves: 2-3
Ingredients
Carrots 1 medium (diced and boiled)
Potato 1 medium (diced and boiled)
Cauliflower 6-8 florets (boiled)
French beans 6-8 1/2 inch pieces (boiled)
Green peas 1/4 cup (boiled)
Ginger paste 1 tsp
Garlic paste 1 tsp
Oil 4 tbsp
Dry coconut 1/2 (grated) (you can use dry desicated coconut 1/2 cup)
Cloves 8
Black peppercorns 8
Poppy seeds (khus khus) 1 tsp
Coriander seeds 1 tsp
Whole dry red chillies 6
Onions 2 large (chopped)
Tomatoes 2 large (chopped)
Red chilli powder 1 1/2 tsp
Turmeric powder 1 tsp
Salt to taste
Fresh coriander leaves 2 tbsp (chopped)
Fennel seed (saunf) powder 1/2 teaspoon
Cinnamon 1 inch stick
Stone flower (dagad phool) 1
Cumin seeds 1/2 teaspoon
Bay leaves 2
Black cardamoms 2
Black peppercorns 7-8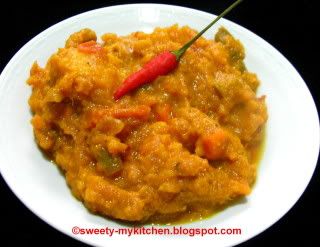 1. Grind ginger and garlic to a fine paste.
2. Grind all the ingredients of the Kolhapuri garam masala into a fine powder and set aside.
3. Heat two tablespoons of oil in a kadai. Add grated dry coconut, cloves, peppercorns, poppy seeds, coriander seeds and red chillies. Lightly fry.
4. Now add two thirds of the chopped onions and cook till it turns slightly brown. Cool, grind to a paste using sufficient water. Set aside.
5. Heat remaining oil in another kadai. Add the remaining chopped onions and sauté till brown.
6. Add ginger and garlic paste and continue to sauté till lightly browned. Add tomatoes, red chilli powder, turmeric powder, masala paste and half cup of water and cook for two minutes.
7. Add the boiled vegetables, adjust salt and simmer for four to five minutes. Sprinkle Kolhapuri garam masala powder and mix well.
8. Garnish with coriander leaves and serve hot.