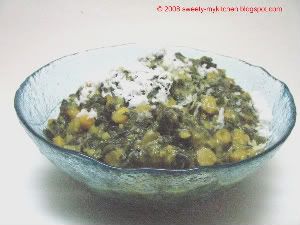 This is one of the authentic Maharashtrian recipe.... I cooked the colocassia leaves like this for the first time and loved the taste so much that now I keep on looking for colocassia leaves..otherwise I used them only to make Patrado/ alu vadi which is also very tasty...
Ingredients
8 Colocassia leaves (arbi ke patte)
1/4 cup Split Bengal gram (chana dal)
3tbsp Oil
1/2 tsp Mustard seeds
a pinch Asafoetida
1/4 tsp Fenugreek seeds (methi dana)
4-5 Green chillies, chopped
1/4 tsp Turmeric powder
5-6 Curry leaves
1/4 cup Peanuts, roasted and crushed
Salt to taste
3/4 tbsp Jaggery (gur), grated
1/4cup Gram flour (besan)
1/2 cup Coconut, scraped
1. Clean the colocassia leaves well and shred them finely. Soak the chana dal for an hour. Drain.
2. Heat oil in a pan, add mustard seeds and let them crackle. Add asafoetida, fenugreek seeds, green chillies, turmeric powder, curry leaves and sauté.
3. Add shredded colocassia leaves and sauté for a minute. Let it cook in its steam for three to four minutes.
4. Add soaked chana dal, crushed peanuts, salt and jaggery. Mix well.
5. Add a little warm water and when ingredients are cooked mash it well.
6. Make a thick batter by adding a little water to the gram flour and add to the mixture. Cook till it thickens a little.
7. Add fresh coconut and mix well. Serve hot.