Patrado or colocassia leaf multilayered with spices, steamed.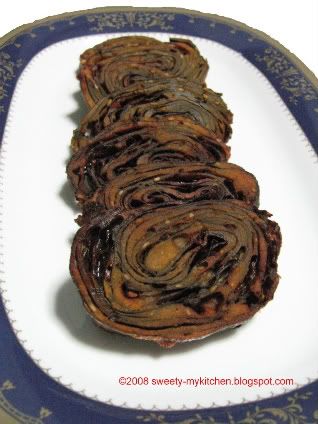 Ingredients

9-10 Colocassia leaves (arbi ke patte)
1 cup Split pigeon pea (toor dal/arhar dal)
1/2 cup Rice
4 tbsp Coconut, scraped
10 Whole dry red chillies, roasted
Lemon sized ball Tamarind
1/4 tsp Asafoetida
Salt to taste
Jaggery (gur) to taste
Method
1. Soak dal and rice for four to six hours. Drain and grind to a coarse paste along with coconut,
whole red chillies, tamarind and asafoetida.
2. Add salt, jaggery and mix well. Leave the batter overnight to ferment.
3. Wash the colocassia leaves (arbi ke patte), remove the stalk and slice off the center stem of the leaves carefully so that the leaves do not tear. Place a leaf on a flat surface and apply a layer of the paste.
4. Place another leaf on top and repeat the procedure until three leaves are used for each roll. Fold the sides of the leaves inwards and roll the leaves together tightly to form a medium sized roll.
5. Tie each roll securely from all sides with a piece of string. Heat sufficient water in a cooker and place the rolls in a shallow vessel. Steam cook them until the patrado is well cooked.
6. Allow the rolls to cool. Remove the strings and cut rolls into thick round slices. Serve drizzled with ghee.
7. They can be served deep-fried too.
My entry for the SWC Karnataka hoted by me....