Wonderful cookies with a taste of peanuts...
Ingredients
3/4 cup All purpose flour (maida)
1/2 cup Peanut butter
2 tbsp roasted peanuts (roughly crushed)
1/4 tsp soda bi carb
1/2 cup rolled oats
1/2 tsp cinnamon powder
3/4 cup brown sugar (can use plain sugar also)
1 tbsp honey
1/4 cup desicated coconut
1 tsp lemon rind
Method
1. Take the flour, soda and sieve in a vessel.
2. Then add peanut butter, crushed peanuts, cinnamon powder, lemon rind, desicated coconut and mix.
3. Add honey and lemon rind, sugar and rolled oats. Mix well and knead it with as much water needed.
4. Put in aluminium foil and keep in refridgerator for half an hour.
5. Take it out from fridge and then make lemon size balls from it, and press it a little.
6. Preheat oven at 180 degrees celcius for 10 min.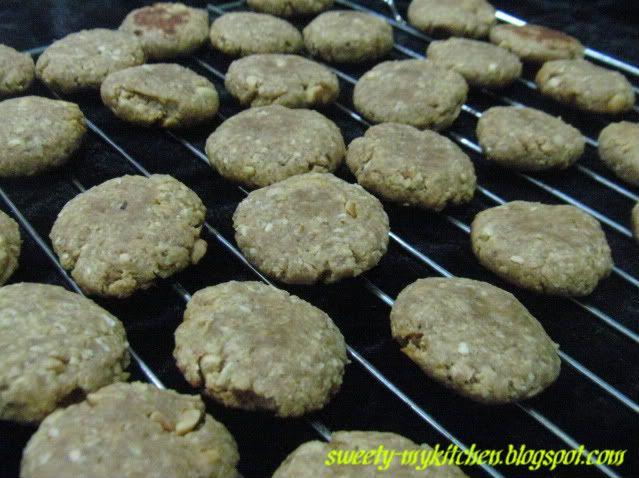 7. Place the cookies tray in the oven and bake for about 10 min.
8. Keep checking. If the cooking are not done keep for some time more.
9. Remove from oven and keep on wire rack for cooling. Once cool store in airtight container.