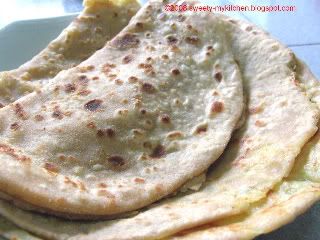 These parathas were invented by me while I was cooking one of the veges... actually the filling is the left over from a vege....
Ingredients
1/2 cup paneer
1 green chilli finely chopped
1/2 onion finely chopped
salt as per taste
2 cups wheat flour
Method
1. Make nice soft dough of the wheat flour using enough water.
2. Mix all the other ingredients.
3. Make small portions of both flour and filling.
4. Fill the filling in the atta balls and make nice round parathas....
5. Enjoy with any simple vege...