Modak a traditional recipie made during the 10 days of Ganesh festival....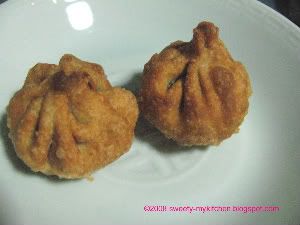 Ingredients
1cup fresh coconut grated
1cup jaggery grated
2cups wheat flour
a pinch of salt
1tsp cardamom powder
if you want then add dry fruits very finely chopped
oil or ghee for frying
Method
1. Mix salt and wheat flour. Heat a little around 2tbsp oil and pour this hot oil on the wheat flour and mix. Then add enough water and make a soft dough from it.
2. Mix grated jaggery, coconut, cardamom powder and nuts (if u you) and keep aside.
3. Make small puris out of the dough and then fill the jaggery mixture into it. Close it and give it the shape of modak (refer the pic).
4. Make a few modaks like that and keep. Heat oil/ghee and fry a few together till golden brown.
5. Serve hot or warm.