Missal a very famous breakfast in the Maharashtra..... This saturday I was really missing that wonderful taste of missal and wanted something in the breakfast which combines lunch with it... so its a complete meal in itself.... and my entry for Priyanka's holi event on Asankhana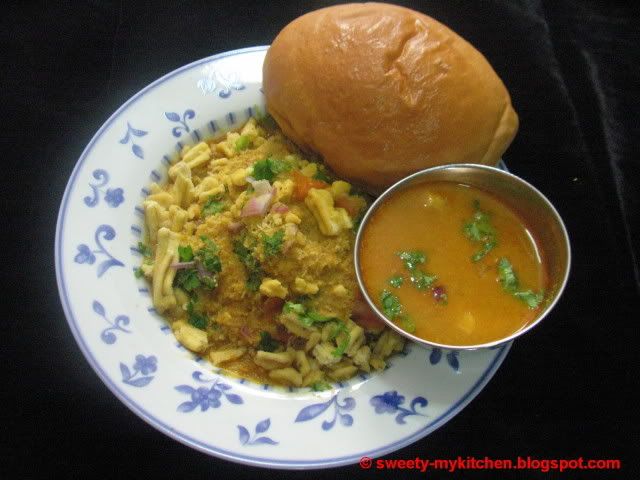 Ingredients
For the Usal
1 tsp oil
1/2 cup sprouted matki
1/2 cup moong (saoked in water for atleast 8-10 hours)
1/2 tsp turmeric
pinch of asafoetida
1 tsp red chilli powder
1 tsp cumin
1 tsp mustard seeds
1 tsp goda masala
little jaggery (1/2 tsp)
Salt to taste
For the Gravy (called as Tarri)
1 tsp ginger paste
1 tsp garlic paste
1 onion finely chopped
1 tomato finely chopped
2 1/2 tbsp grated dry coconut
1 tsp garam masala
1 tsp Turmeric
1 tsp oil
salt to taste
For garnishing
Farsan, Shev, Finely chopped onion, finely chopped tomato, A wedge of lemon
Method
For Usal
1. Put oil in a pan then add the mustard seeds, when they crackle add cumin seeds, turmeric and asafoetida, matki and moong and red chilli powder.
2. Then add salt, goda masala, jaggery and mix it all together. Keep aside.
For Tarri
1. Fry the onion in oil till brown, then add coconut, ginger and garlic pastes and tomato.
2. Cool it and then grind everything in mixer.
3. Put some oil in a pan and put turmeric, red chilli powder in it and add the onion gravy to it. (if chilli powder is put in oil directly it will bring nice red colour to the gravy)
4. Now add garam masala, salt and fry for another minute.
5. Add water and boil the gravy.
In another vessel make kanda pohe and keep.
Srving
Put the Usal in a dish, spread little pohe on it then top with farsan and then with the tarri....
Or the gravy can be served separately in a bowl, keep a wedge of lemon and pav.
Enjoy.......