I always used to think of making rava laddoos.. but was very scared as the way my mom makes it is a bit difficult.. she makes the sugar syrup then add the roasted rava to it then makes the laddoos.. the consistency of sugar syrup has to be just right.... so i never tried rava laddoos.. Few days back one of my friend had brought rava laddoo in the office.. wow they were wonderful... so I asked her how did she make it.. and the recipie she told me was so simple... so I also decided to prepare it the same way... and the result was yum yum yum......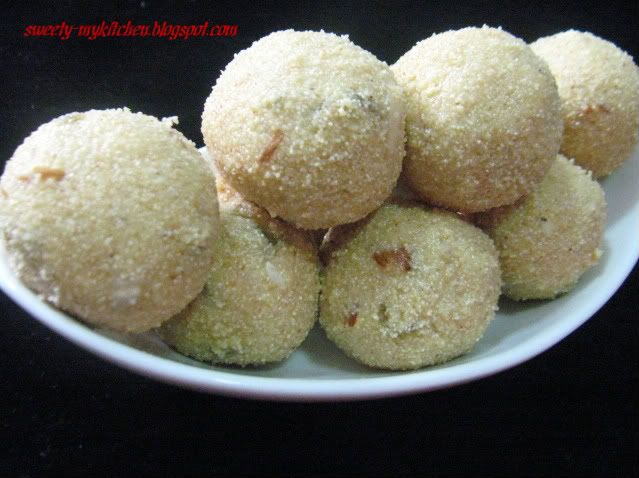 2 cups fine semolina (Rava)
1 cup chick pea flour (Besan)
1 cup clarified butter (ghee)
1 1/2 cup icing sugar (or adjust according to sweetness)
all nuts (cashew, almonds, raisins etc...)
1 1/2 tsp cardamom powder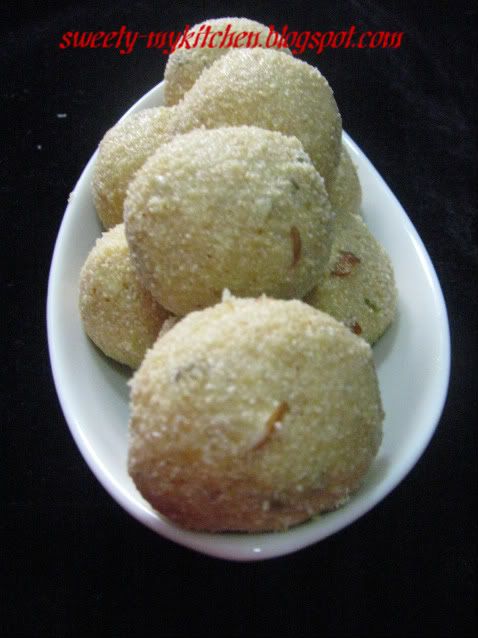 1. Mix rava, besan and 2-3 tbsp ghee together and rub nicely. Leave it for 1/2 an hr.
2. In a heavy bottomed vessel put the rava mixture and roast it nicely adding the remaining ghee little by little.
3. Roast on medium flame till there is nice aroma and the mixture changes colour. (about 20-30 min)
4. Remove in a flat plate and let it cool for about 10-15 min.
5. When it is warm add icing sugar, all nuts, cardamom powder and nutmeg powder.
6. Make laddoos and serve them next day. As the sweetness of the sugar will mix very nicely.