A very simple and fast to make recipe..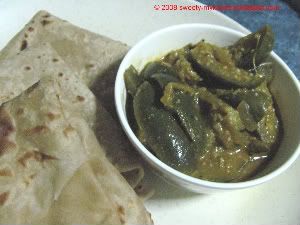 Ingredients
5-6 medium sized eggplants (brinjals)
1 onion (sliced long)
1tsp oil
1tsp mustard seeds
1tsp turmeric (haldi)
a pinch of asafoetida (hing)
1tsp red chilli powder or to taste
1tsp garam masala
1tsp jaggery
Salt as per taste
water
1/2 cup roasted peanut powder
Method
1. Wash, clean and remove the stems of the brinjals and cut them in long but thick slices. Put them in salt water.
2. Cut onions long. Heat oil in a pan and add mustard seeds. When they crackle add onions and saute till the onions turn a little brown.
3. Then add turmeric, asafoetida and mix.
4. Add the brinjals, mix and then add garam masala, jaggery, red chilli powder and salt. Mix and add enough water for the brinjals to get cooked.
5. When the brinjals are cooked add the peanut powder and boil for two more minutes. Serve hot with plain rice/roti/chapati/paratha.
Note:

Use boiled potato if you have less number of brinjals.
My entry for the SWC Karnataka Event.