We prepare these Laddus on one of the Shravani Somwar (Mondays that come in the Shravan month according to Hindu calendar)... those who are basically from Karnataka might know this variety of Laddu... so this recipe goes for the SWC-Karnataka event and the Sweet Series Chikki and laddu event of TOI.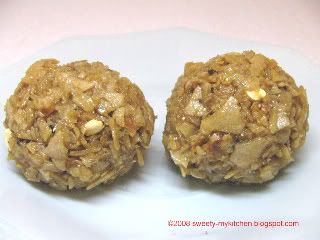 Ingredients
2 cups atta
grated jaggery according the sweetness
1tsp green cardamom powder
2tsp poppy seeds (khus khus)
1tbsp roasted chickpeas
1tbsp grated dry coconut
2tbsp ghee
Method
1. Make a dough from the atta using enough water and make chappatis (roti) from the dough.
2. Once the chappatis are a bit cool, grind them in a food processor or just mash them with hand.( do not grind to powder)
3. Heat ghee in a thick bottomed pan and add the grated jaggery to it and just melt the jaggery into it.
4. Remove from gas and add poppy seeds, cardamom powder, grated dry coconut, roasted chickpea and mix.
5. Then add the mashed chappatis. Make big size ladoos from it.