A mixture of beetroot and potatoes shaped into tikkis and shallow fried with its wonderful colour is a very tasty and mouthwatering tea time snacks on rainy days....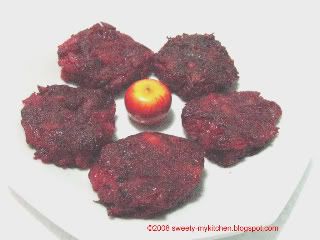 Ingredients
1cup beetroot boiled and mashed
3 medium potatoes boiled and mashed
1tbsp oil + for shallow fry
1 medium onion chopped finely
1/2 tbsp red chilli powder
Method
1. Heat 1tbsp oil in a pan add onion and fry till light golden brown. Add beetroot, salt and fry till moisture evaporates. Add red chilli powder and mix.
2. Add lemon juice and mix.
3. Add beetroot mixture to potatoes & mix. Cool and chill in the refrigerator for half and hour.
4. Heat oil on a tawa. Grease your hands with a little water and make tikkis from the beetroot mixture. Shallow fry on both sides on the tawa till cooked.
5. Serve hot with any chutney or ketchup.
This is my entry for the sunshinemom event of Food in Colour event
Now the Award... thanks a lot dear Sowmya... I feel honoured with this award...


Now I would like to pass this to Vidya, Neha, Sunshinemom & Purva
Happy blogging friends
And now coming to Meme
Priti has passed me this cute

The Booky Meme

.
The rules of the tag are as follows:* Pick up the nearest book* Open to page 123* Find the 5th sentence* Post the next three sentences* Tag 5 people and acknowledge the person who tagged you
Ok here it goes.. the nearest book is 'How to Maximize your child's learning ability' and on page 123, 5th Sentence is "Christopher enjoys the role of observer."
1. He is fascinated by the interactions and play of other children.
2. But remains on the sidelines as though unsure of how to join in their games.
3.Christopher's gross motor skills are about average for his age.
And I'm passing it to
Priyanka, Sukanya, Srilekha, Pooja & Rashmi