A wonderful side dish with soup...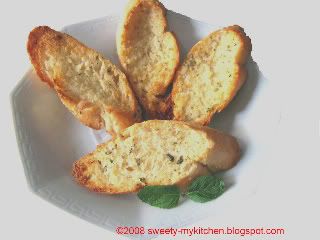 Ingredients
1 french loaf
butter enough to spread on the loaf
1tsp oregano leaves crushed
1
tbsp garlic paste
Method
1. Cut the french into slant slices.
2. Mix butter, oregano and garlic paste together. Spread it evenly on both sides of the slices and toast for 2-3 min in an oven at about 100degree celcius. Or can just roast it on the tawa or hot griddle till crisp.