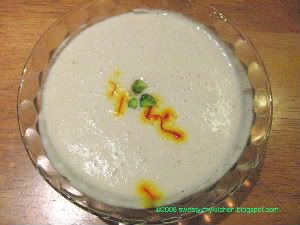 Today I am really tired, was out for the whole day and wanted to freshen my self. So there could be nothing other than to try something new and freshen up... So usually I make mango soufle... had custard apple at home and thought of trying custard apple soufle.. ah it really tastes great... feeling good after a successful experiment..hehehe.. so one more entry for
Srilekha's event of Ice creams and milk shakes
.

Ingredients
2tbsp condensed milk (or adjust according to taste)
a few strands of saffron and a few pieces of pistachios for garnish.
Method
1. Peel, dessed the custard apple.
2. In a blender mix milk, condensed milk, cream and custard apple pulp and blend nicely.
3. In a bowl take 4 tbsp hot water add gelatin and stirr till dissolved. Pass it through a strainer into the blended mixture.
4. Pour into bowl or glasses in which you want to set the soufle. Place in the refrigerator to set.
5. Sprinkle a few strands of saffron and pieces of pistachios and served chilled.