A tangy rice and can be prepared easily... My entry for the
SWC-Karnataka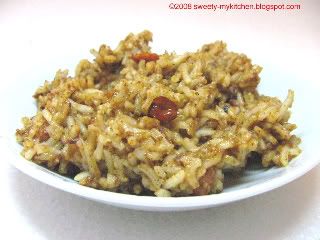 Ingredients
3 tbsp Tamarind concentrate
2tsp sugar
salt as per taste
2tbsp peanuts roasted
1tbsp desicated coconut
2tbsp jaggery
1tsp black pepper powder
few curry leaves
1tsp sesame seeds
1tsp fenugreek powder
1tsp turmeric powder
2tsp chick peas
1tsp blackgram
1tsp mustard seeds
2tsp oil
1tsp asafoetida
1tsp cumin powder
2cups rice
Method
1. Wash and cook rice in a cooker. Keep aside.
2. Heat oil in a pan and add mustard seeds. Once they crackle add blackgram, chick peas, peanuts, turmeric powder & asafoetida.
3. Fry all this for about a few minutes. (till the nuts start to change colour)
4. Then add desiccated coconut, coriander powder, red chilli powder, curry leaves, seasame seeds, jaggery, black pepper powder, fenugreek powder & cumin powder. Mix and fry for another minute.
5. Then add cooked rice, sugar, salt and tamarind concentrate. Mix all and serve hot.